I can still vividly remember standing on the risers, tears running down my face, while our assistant principle played Graduation, by Vitamin C on a $30 boombox in our elementary school graduation. It was over. I was a big, bad 5th-grader being shipped off to the cruel world of middle school.
I was crying because I missed my friends already, not realizing I would see all of them in 3 months on my first day at French Middle School. Whoops.
With the launch of our new product, Experiences, I consider today a graduation of sorts for Proof. But not the wiping-snot-onto-my-jean-jacket sad kind of graduation. Today is more of a ripping-my-shirt-off-with-joy kind of graduation.
New Website. New Logo. New Name For Our Social Proof Product.
As a single product company, our social proof tool took on the name of our company. People have always just called it "Proof". As we extend to adding a new product, we needed to reposition ourselves a bit to encompass where we are going. Proof is the company, so the products needed names.
To cement the evolution, we decided to roll out a new logo, new branding, and new, highly personalized, website.
Behold, the new Proof logo:
We also decided to give our flagship social proof tool a name of its own.
Our social proof product is now called Pulse.
Why Pulse?
We think the name Pulse captures what the tool really offers.
It gives visitors a quick pulse on the amount of visitors or traffic to a site.
It pops up on your screen in a pulse-like animation.
It acts as the heart-beat of your website. Letting visitors know that you're alive and well.
Plus we liked the alliteration. Proof Pulse. Peter picked a peck of peppers and purchased Proof Pulse.
To our 3,000 customers using Proof Pulse. You can continue to login to your account and do business as usual, and we hope you'll consider joining us in trying Experiences as well. We plan on merging the 2 products together into one supercharged app at some point, but for now they are separate.
Graduating To A Two Product Company
When we started Proof 3 years ago, our product was a simple popup that showed how many people were buying products on a site. We thought it was cool, but had no idea how fast it would take off. We grew to thousands of customers, got into Y Combinator, and started to think, "Maybe this could be something big?"
We started to make a plan for life beyond the popup.
I pitched a glimpse of what was to come at our YC Demo Day in April 2018. In the future, we would build a tool that would make it easy to personalize every step of the funnel to delight visitors and increase conversions.
6 months after leaving YC, we decided to split 3 people off our team to go explore that product. We were asking questions like:
Is there even demand for website personalization?
What's already out there in the market?
How are companies solving this now or attempting to solve it?
Does personalization actually increase conversions?
Why aren't more people doing this?
Can we do this really really well?
After a month of intense digging and talking to customers, we came to the following 3 conclusions:
Website personalization is a large and growing wave that will undeniably dominate the future.
There are basically no good solutions available.
We think we have the team and expertise to build a simple yet powerful tool to help our customers create amazing website experiences for their most important visitors.
Experiences was born. We wrote the first line of code in December 2018. We thought it would take us 90 days… max.
Well, after 13 months of customer interviews, beta testers, winning (and losing) A/B tests, total re-writes, and a lot of laughter and fun, I'd like to officially introduce you to Experiences.
Experiences Gives Your Website Muscles
When I was a kid, I would watch that old cartoon Popeye The Sailor Man. He was a dopey sailor who would get picked on, but eating spinach gave him these big ballooney muscles that he would use to go dominate his nemesis, Bluto. As a scrawny kid, this fascinated me.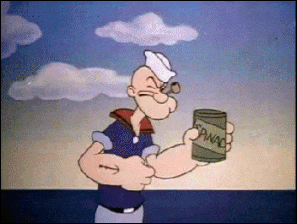 Experiences is the spinach your website has been thirsting for.
We make it easy for B2B companies to create no-code personalized versions of their site and show them to visitors based on ANY data source you want to use. Now you can:
Increase leads by showing the perfect lead magnet to visitors based on data pulled from your CRM or using our open API.
Drive more demos by using Clearbit Reveal to show first-time visitors different logos based on company size.
Increase new trials by personalizing your homepage headline angle to speak differently to industries like SaaS, Ecommerce, Agencies, B2B, and B2C.
Generate more expansion revenue by hooking into Segment to show existing customers products they can upgrade into.
All using your existing site, and without writing any code.
Website personalization is powerful, but up until now it's been very hard to implement. We hope to change all of that. We've seen the fastest growing companies starting to figure it out. Marketing teams that implement personalization early will win, while those who push it off to "next year" are going to get left in the dust, or at least have a hard time catching up.
Here's how some of our existing customers have been getting freaky-good conversion lift:
Finally, to our thousands of existing customers, we're excited to provide you with another cutting edge marketing tool to add to your arsenal. To those who aren't yet our customers, this is a great time to jump on in. The water just got a little warmer.
If you're ready to see how this could work for you, book a demo here and let's talk.
Here's to Making The Internet Delightfully Human. 🎉